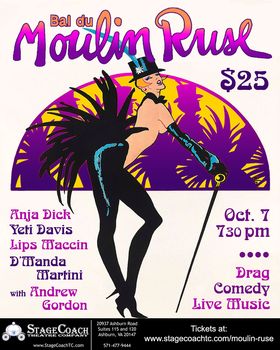 Friday, October 7 at StageCoach Theatre, 20937 Ashburn Road, Suites 115 and 120, Ashburn, VA 20147
Doors open at 7:00pm. Show begins at 7:30pm.
Admission: $25 per person. Reservations are strongly recommended. Online reservations will close at 5:30pm on the day of the event and tickets can then be purchased at the door, pending availability.
"Moulin Ruse" will be bringing the best of the DMV's singing drag artists and musicians together for an unforgettable night of music, comedy, and drama at StageCoach Theater Co! Our all live-singing cabaret will make you laugh, cry, and sing along as we cover some Broadway classics along with original music and parodies, as well as some unexpected shenanigans, all right here in Loudoun County.
What more could you want for a night out in Ashburn? Bring your friends and get your tickets early because this is sure to be the hottest show on this side of the Potomac!
Tipping is greatly appreciated, and encouraged.
Recommended for ages 18+