Date/Time
Date(s) - 09/30/2023
7:00 PM - 9:30 PM
Location
StageCoach Theatre Company
Categories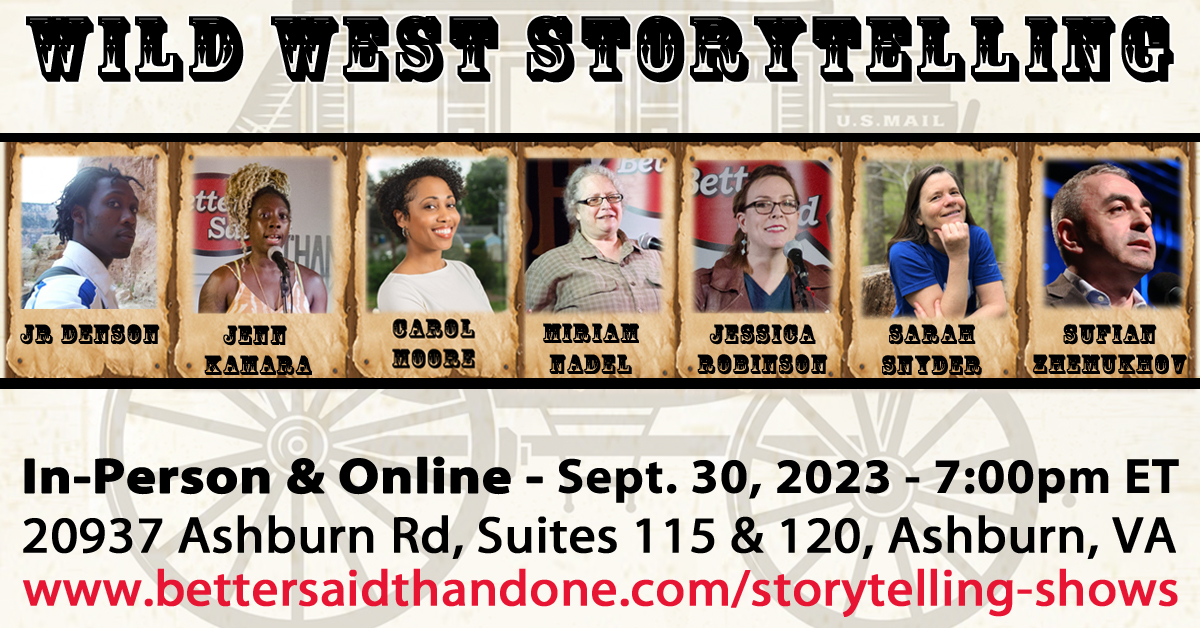 Better Said Than Done presents
Wild West Storytelling: Stories of New Frontiers, Going Crazy, and the Wild West
With storytellers JR Denson, Jenn Kamara, Carol Moore, Miriam Nadel, Sarah Snyder, and Sufian Zhemukhov, and rootin, tootin emcee Jessica Robinson.
Better Said Than Done produces spoken word storytelling shows. Storytellers perform true, personal stories on theme.
In Wild West Storytelling, stories will range from the terrifying to the hilarious, from edifying to unbelievable. Our storytellers will take you on a wild adventure, bringing the audience along with them on their own Wild West adventures.
Performance will be held on
Saturday, September 30, 2023 at 7:00pm
Doors will open at 6:30pm.
StageCoach Theatre, 20937 Ashburn Road, Suites 115 and 120, Ashburn, VA 20147
Admission: $15 + $3 service fee per person. Reservations are strongly recommended.
Snacks and beverages are available for separate purchase for consumption in the theater.
More info and reservation link here.